Norge på langs alias "The length of Norway". Legendary adventure and a dream of almost every active Norwegian. However, just a few people ever dared to fulfill it. There is only one rule. To get from Lindesnes fyr in the south to the northernmost point of the country, fabled Nordkapp, using only your own power. It doesn't matter which way you choose. Whether you walk on the road or follow mountain trails, go by bike or sea kayak, that's completely up to you. On foot (our aim!) it usually takes from 4 up to 6 months to make it. So far only one person has run it. Incredible sport achievemet, wow! But... The runner was running on the asphalt roads full of cars, nonstop watched by his team, and he took the shortest way, so it was around 2660 km. Petr's aim is very different. The plan is to run mainly alone around 3000 km through the cold unknown mountains, gruelling wetlands with billions of mosquitoes, through the never ending deserted subarctic plateaus, very often far from civilization in total wilderness with no trails at all. And on top of that we want to produce several forms of detailed on-line documentation of this incredible journey. It's going to be pure adventure, true fight and a way to real self-change.
Goals and message of the project
There are 2 main goals on this trip. Both equally important!
To experience and finish NPL. Fast... Best by running, of course. But by any clean means (bike, canoe or switching the runners etc) in the worst case like injury or unexpected problems of the main runner...


To film a movie about NPL (our trip and generally) and to create high quality audiovisual materials


It's not only the journey of the body but also the journey of the mind. We will work hard to find out about how to have better life routines, self-discipline, we want to talk about meaningful values, enviromental issues and we also want to use the attention of the people who will follow this journey to support a dog shelter (as our little sporty dog will run the big part of the road too).
---
Date and route
July 25th 2019 till the end of September 2019
This is very idealistic plan. Hard to say if it is real. We must be back home latest on October 4th 2019. Best case scenario would be to run 50 km per day = 60 days. However... We are much more filmmakers than elite runners. And we talk about very often pathless wilderness of northern Scandinavia. In some parts Petr will have to find a way through the labyrinth of steep rock walls, deep fjords, glaciers, wild rivers, wetlands etc. In such parts, to run 1 km takes 4x more time than to run 1 km on trail in the civilized mountains in the south.
His route is perfectly planned, yet it might be changed on the way north according to the current physical, mood and weather state. We want to surprise the audience by its variety, so before the start of the trip, we keep it secret. We told the detailed plan in advance only to our partners. 


---
Team

Petr Pavlíček - runner and at the same time the main filmmaker of the expedition, author of the project
• experienced filmmaker, photographer and traveler, author the videos and most photos on this web-page
• 6 years of close cooperation with the world's best climber Adam Ondra and top class outdoor brands. In years 2012 - 2014 Petr and Adam have literally put unknown Norway (in terms of hard climbing) on the world climbing map, through filming and promoting their big movie Change
• ski mountaineer, trail runner, climber, vegan, organizer of the big running races and creative campaigns
• expert about Scandinavia, he's going to visit this peninsula for 37th time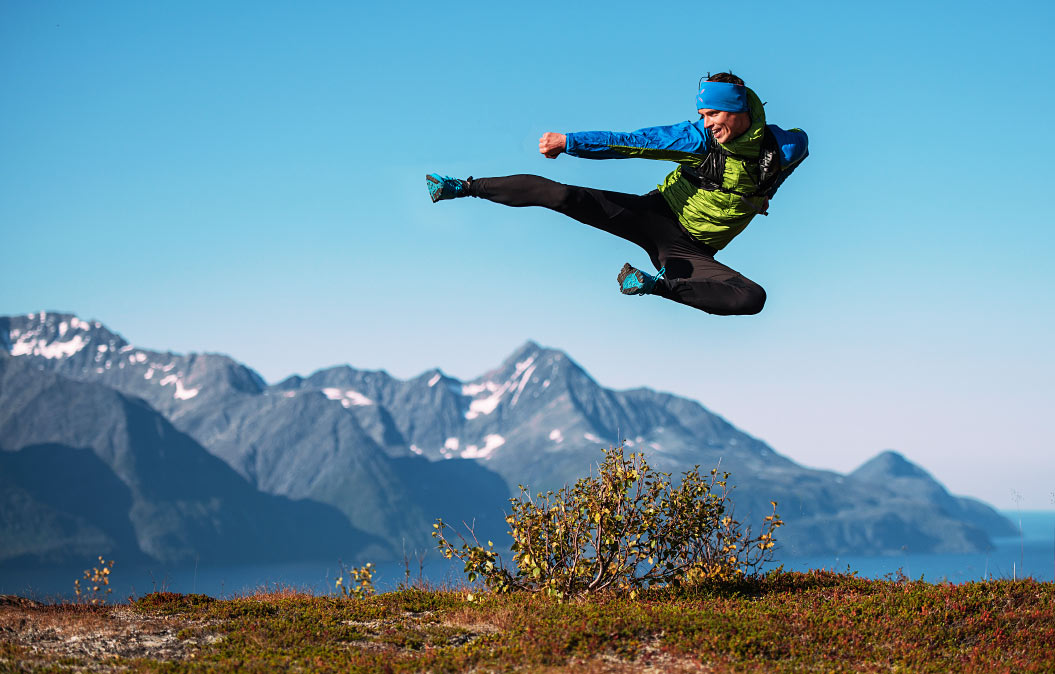 As a child, Petr was training martial arts every day for 12 years. Could it be the reason why he is willing to suffer so much? ;-)
---
Bára Vávrová - she's gonna fully support this project as a photographer/photo editor, writer, driver, cook, sometimes also as a pacer
very good and creative photographer, skilled at post-production and Photoshop, traveler, organizer of the running races
climber, ultra runner, vegetarian, she also knows Scandinavia very well, this is gonna be her 22nd journey to Norway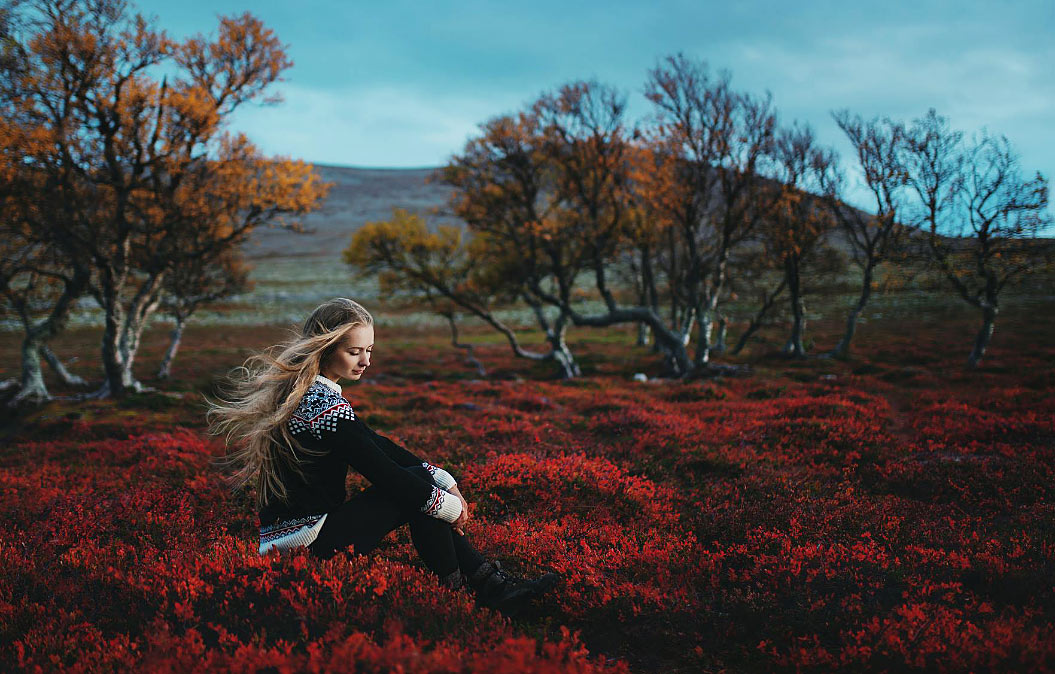 Bára in her element. Pure Nature and her phantasy create art...
---
Jan Štindl - video editor 
very good film-maker and especially great with video editing and post-production, graphic designer
He doesn't have any experience with Scandinavia, but he's a great person
---
Čenda the ultradog - crazy runner, beloved by the audience, positive element
ultimate dog sportsman with short legs and small body but enormous enthusiasm and endurance. He run many 70+ km races with us and still was able to fight other dogs behind the finish line
he will run for other dogs in the dog shelter in our area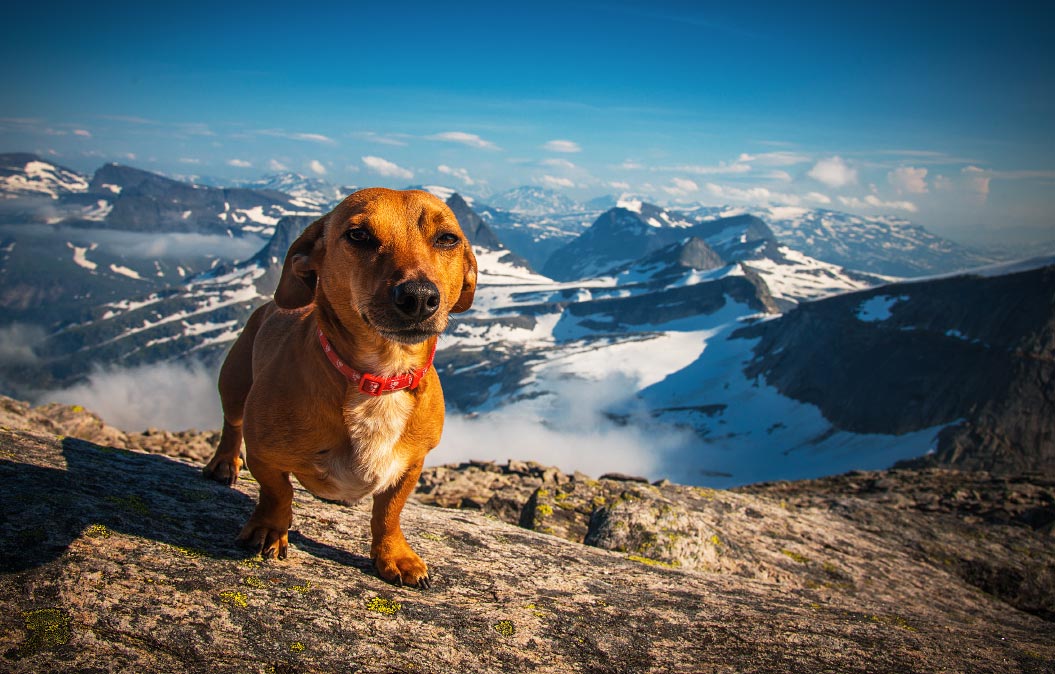 Another support - we will meet bunch of other people on the way North, our Norwegian friends. One mountain guide from Bodø might join Petr on wild glacier above Sulitjelma, another kayaker from Tromsø might borrow Petr a sea kayak to get to Magerøya island, where lies mysterious Nordkapp, the final aim of our journey. We will also invite some influencers to accompany us during our stay in interesting parts of the Norway.
---
Media output of "Norge på langs 2019" project
(Again, this is our courageous ideal plan and we try our best to fulfill it. Just the time will show if it was realistic) 
Film - artistic feature length documentary (big experience after producing 2 similar bestselling movies about the world's best climber)
Book - beautifuly made paper book with a lot of pictures, stories, tips and some of our thoughts
Reports on the web page - as long as it will be technically possible (mobile phone reception), we try to do daily reports from the trip. Photos, short story with facts, map, sometimes small video etc.
Daily social media reports + materials for "SoMe" of our partners
Reports in local media - both in Norway and Czech Republic
Public presentations - festivals, races, photo exhibition, TV shows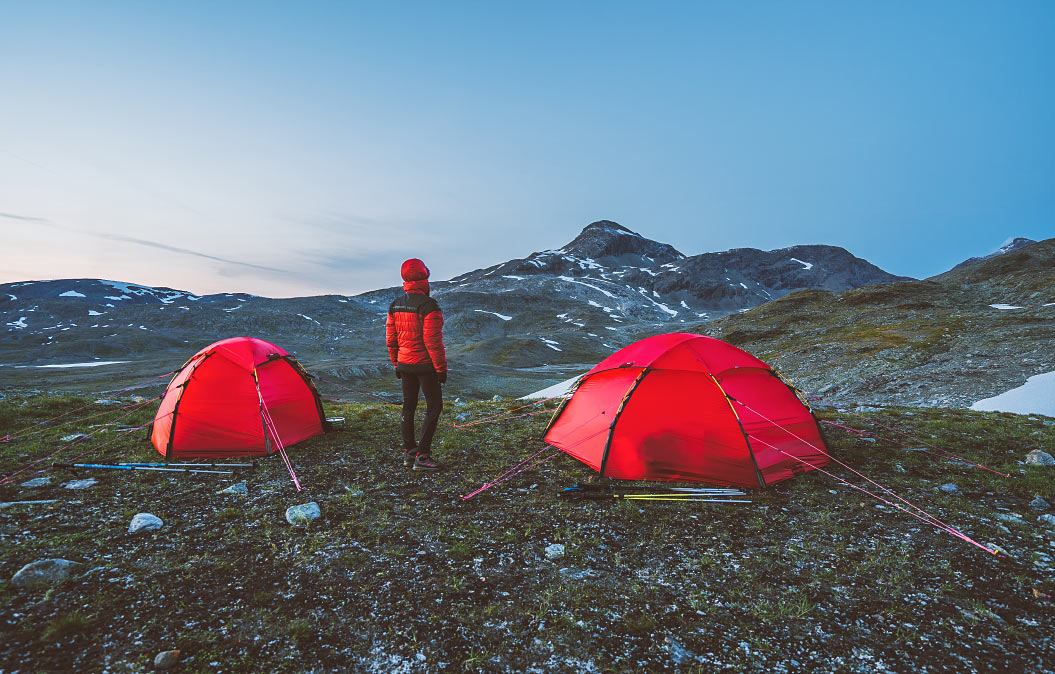 Bára waiting for Petr in a meeting point in the wild mountains of Sulitjelma during 2017 training trip
---
Cars and logistics
This project is really complicated and challenging in terms of logistics and we need 2 cars for it! One smaller handy car for any needs and a bigger camping car. We need the big car from more reasons.
Base - our trip  shall be a run. at least that is the plan. This means, the runner needs to have relatively light backpack, max 10 kg, it is impossible for everyone to run with 25 kg backpack for so many days. So the whole 3000 km trail will be divided into many shorter segments with "resupply points", where the runner will meet the support team, eat, sometimes sleep, resupply, change the batteries and SD cards with filmed footage, film daily message for the social media, get care of small injuries etc.


Filming flexibility - huge aspect of this project is filming. Sometimes, the second cameraman will be joining the runner for a part of the segment to film him on a special place. Then the cameraman needs to get back to the car and drive to the next meeting point. In between, the runner will be also running to the next meeting point. The rest of the support team with the second car must already be there, waiting for the runner! That is why we really need 2 cars. Sometimes the runner will run let's say 50 km across a wilderness with no roads. For the runner, it is only 50 km. But for the car, to get to the next point, it can easily be 300-400 km ride sometimes, because of the lack of the roads and because of the difficulty of the terrain in Norway. So there must be 2 cars.


Editing - important aspect of the trip is "Editing on the road". We want to bring the audience many small daily reports. Photos, stories for social media, web page update and if possible, also small film reports every few days. That is why the support team has to have 1 bigger car - a van or camping car with electricity, internet and a table - to be able to spend long hours editing, no matter the weather outside etc.

It is simply absolutely impossible to spend more than 2 months on the front seat of fully loaded small car, in long cold rainy days high in the mountains, without the ability to sleep, cook, edit movies and photos etc. Bear in mind, that this is Norway. Weather can absolutely affect this project. So we must be prepared for the worst case scenario. Currently we own 2 new cars, Škoda Octavia and Škoda Kodiaq, one of them will be the small car.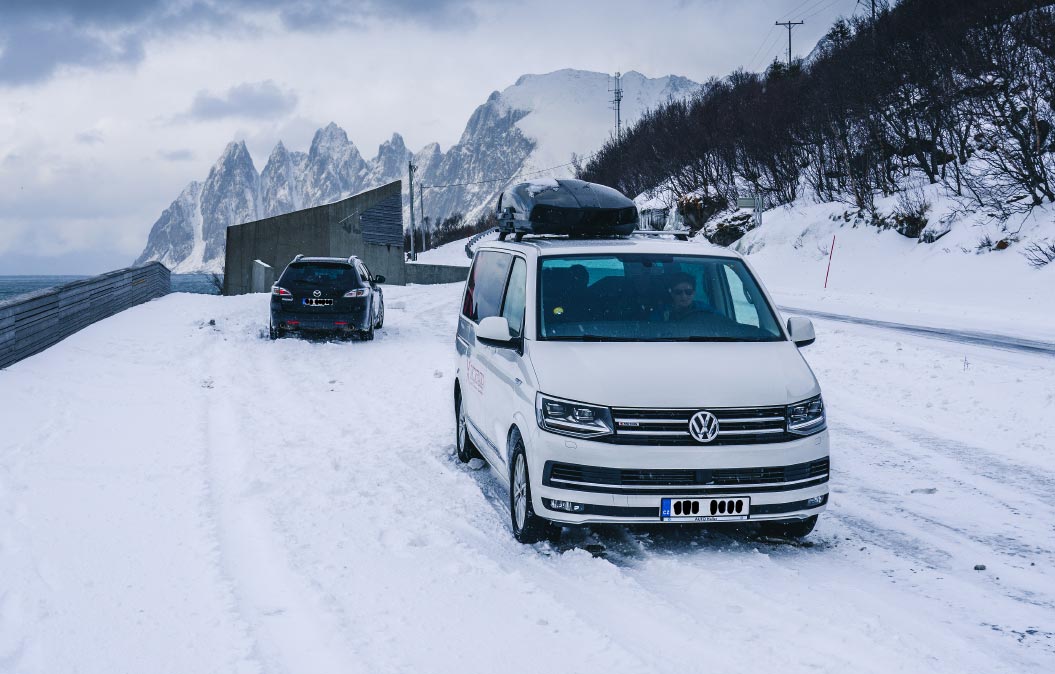 Our "base camp car"during filming the project Arctic Challenge 2018
---
---
Why is our project "different"?
Our journey has many interesting aspects. Sports, adventurous, entertaining, motivational and also commercial. It will be historically the first (to our knowledge) really "honest" off/trail run across Norway or if you want an extreme variant of Norge på langs. This will bring us incredible variety of small stories, activities and therefore possibilities of getting authentic quality material. It won't be just about monotonous running at all! As stated above, we won't choose the shortest and easiest way, but the opposite. The most beautiful, various and remote one within our powers! We will simply try to make it more interesting for us = for our followers. How?
Variety of activities...
Climbing a few iconic norwegian mountains - within the bounds of possibility (current weather, time schedule and the current physical shape), we'll try to climb to the top of Galdhøpiggen, Store Svuku, Kvingtinden, Okssolten, Halti. Since we start 4 weeks later than planned, any of these mountains will be huge reward :-)
Blåmannsissen glacier traverse - the "only" way how to get from Sulitjelma to Narvik fjellet further north with "dry feet" and not using the main E6 road and Sweden. For details, see the next paragraph "Staying in Norway".


Sea kayaking - in case of steady weather, the runner will try to get to Magerøya (here lies mysterious Nordkapp, the final destination of our journey) on the sea. People normally use the 7 km long underwater tunnel.


Canoeing on rivers Susna and/or Altaelva and crossing southern part of lake Femunden and part of lake Røssvatnet.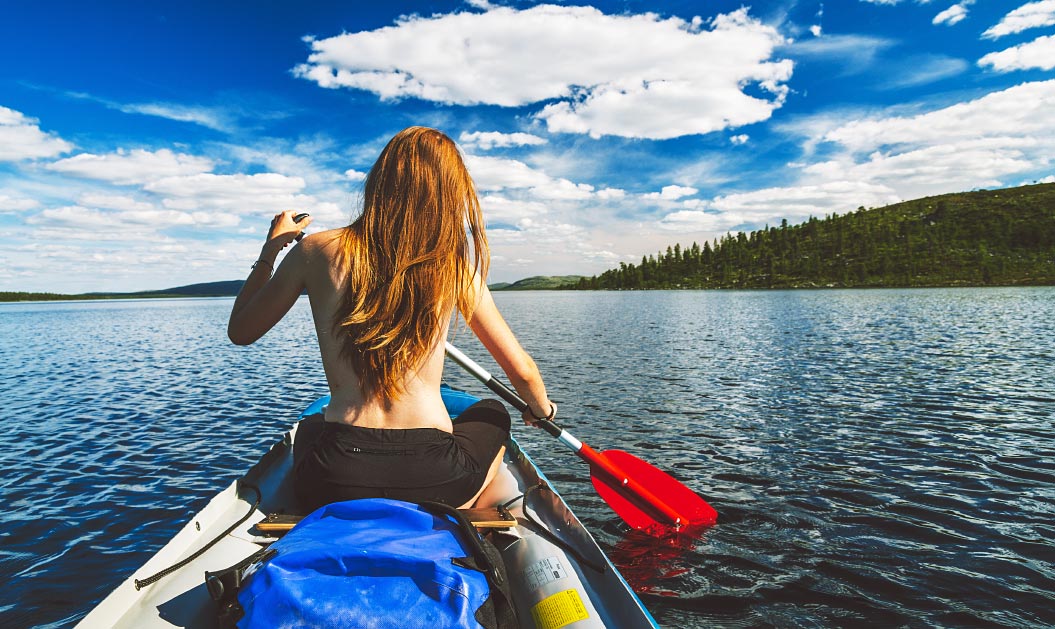 Enjoying total freedom deep in the remote parts of Femundsmarka
---
Staying only in Norway!
Another huge challenge of this trip (hard to say if possible since we start so late and snow can come anytime in the north in September) is to try to stay only on nowegian soil. Sounds obvious, but it is not. Not if you want to stay out of the main roads as we do. Why? Norway is very long, but in one part, it's really narrow. We are talking about the part between the towns of Fauske and Narvik. The narrowest part between the fjord and the wild border with Sweden is only 6 km wide. If you want to go north, you must use the only road, famous E6 + ferry boat. But we try to skip both.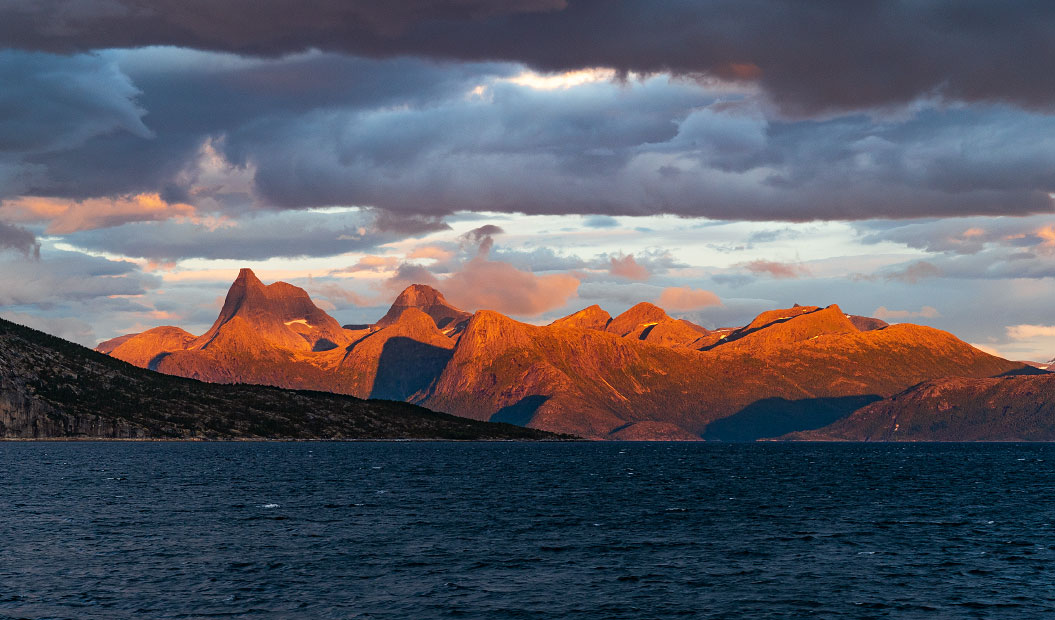 West coast of the narrowest part of Norway with one of our aims Stetinden (left summit)
This part of Norway is really special. In the east, it is marked by the very straight border with Sweden in really very deserted mountains, far from any roads. West border is made of really curvy, wild and bizzare coastal landscape with enormous rock faces falling straight to the deep fjords, creating countless bays and peninsulas. In between, it's a land of so many steep mountains, glaciers, glacier rivers which you can't wade, big parts are covered by snow the whole year. Everybody who goes NPL uses in this part of Norway either E6 road and the ferry or continues from Sulitjelma north through Sweden in much milder terrain.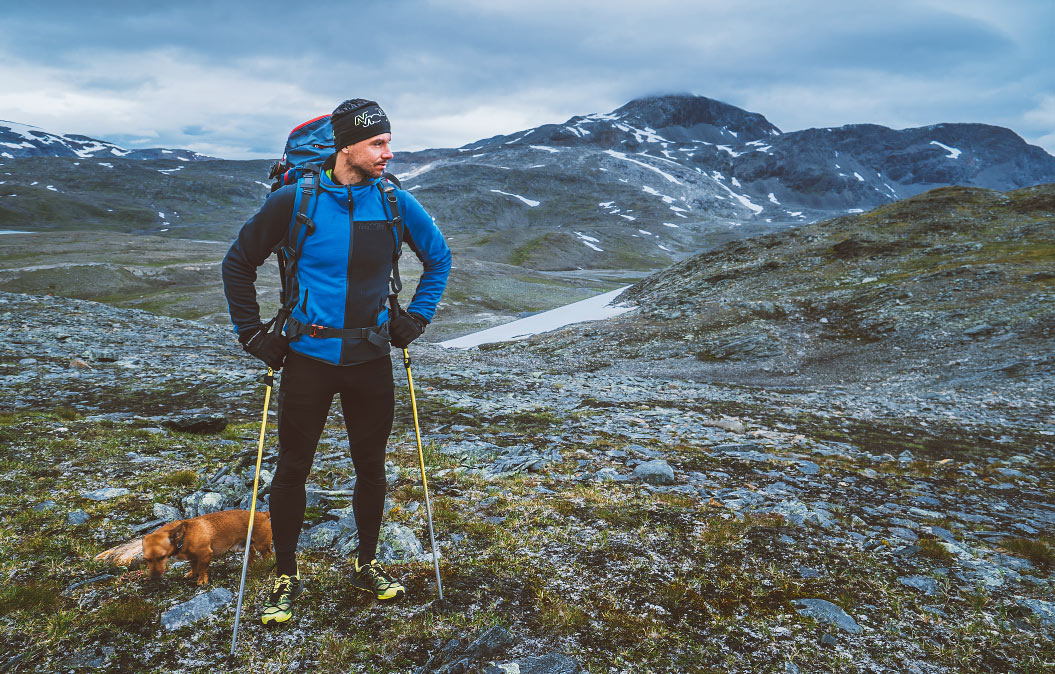 Petr and Čenda during the training and exploration trip to remote parts of Norway in summer 2017
We try to stay in the mountains of Norway. Any quick rescue action or even just support for the runner is practically not possible here. It will be really tough, unsupported and possibly dangerous and slow 150 km. Sounds hard, if you keep in mind that it will be after cca 1900 demanding km already. But if we organize it well and the weather allows (it can snow here heavily anytime) and if Peter manages to stay injury free, it might be real. Small chance, but we at least try... If it won't be possible, Sweden or Finnland is also an beautiful option ;-) So case of injury, total exhaustion or really bad conditions in the steep coastal mountains, we will use the E6 or Sweden, but that is hopefully not gonna happen. Wish us luck!  ;-)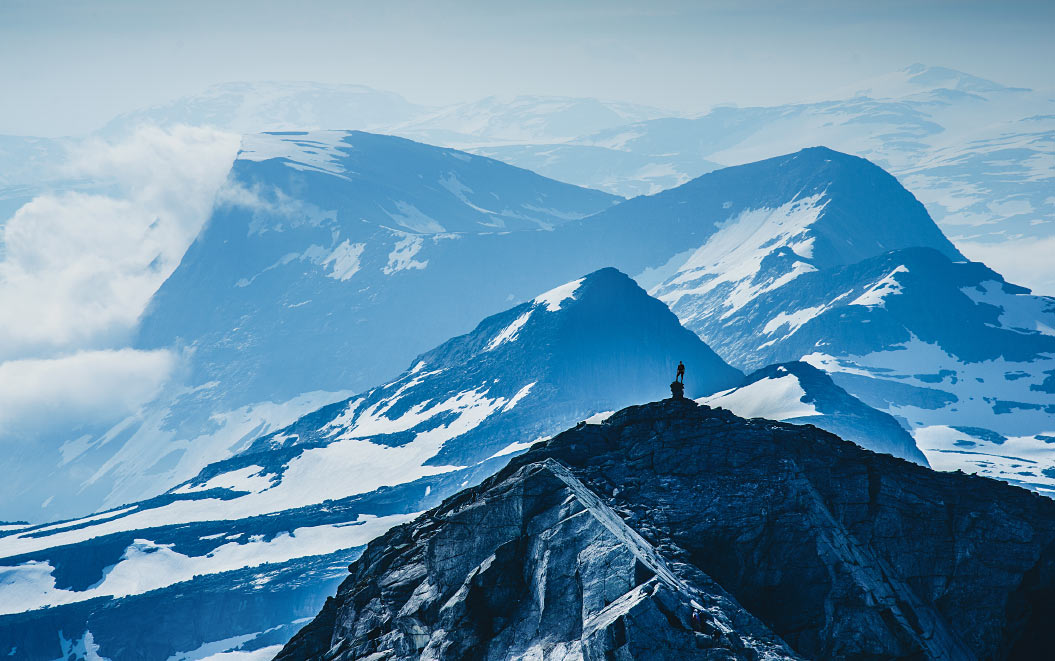 Summer mountains in the most narrow part of Norway observed from Stetinden - still a lot of snow
---
ON-LINE publishing straight from the expedition
As stated above, we will do our best to publish a lot of photos, texts, facts, stories and sometimes also small edited video reports straight from the road. So not just a few quick insta-stories, but relatively high level of newscast even despite our small budget.

The main runner Petr will be also the main cameraman. That is ultra challenge. But it is Petr's everyday bread. He is used to film in any weather in any terrain in any year season. Very often he is out in the mountains with super heavy backpacks full of film and photo equipment + all the gear needed for survival. This is his specialty. Here, on this trip, he will use all the latest achievements of technology development (list of photo/film gear comes in separate article), so he will be able to still be relatively light to run and at the same time he will have great cameras, small drone, light clothes and food to be able to do both running and filming interesting situations on the road.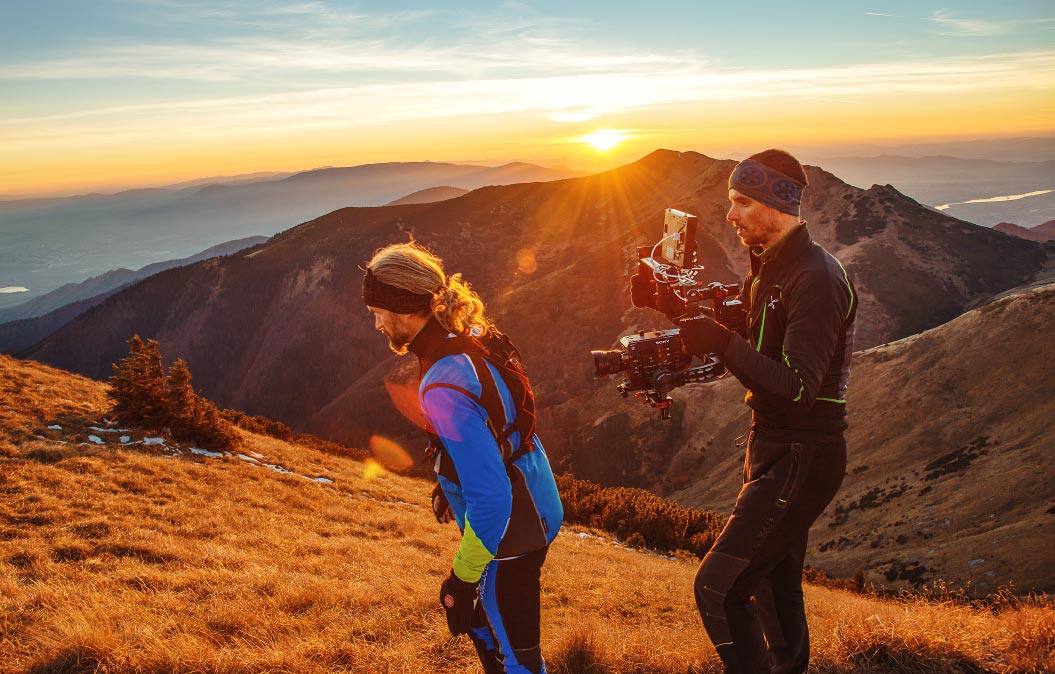 Petr at work, following runners, bikers, climbers or skiers anywhere. On the trip he'll have much lighter film equipment
Also the support team must do everything to show high performance. Solving the logistic problems, supporting the runner in any scenario with everything necessary, filming and photographing additional footage for the film and for sponsors, writing the diary (base for the upcoming book), editing photos and videos for the web page etc.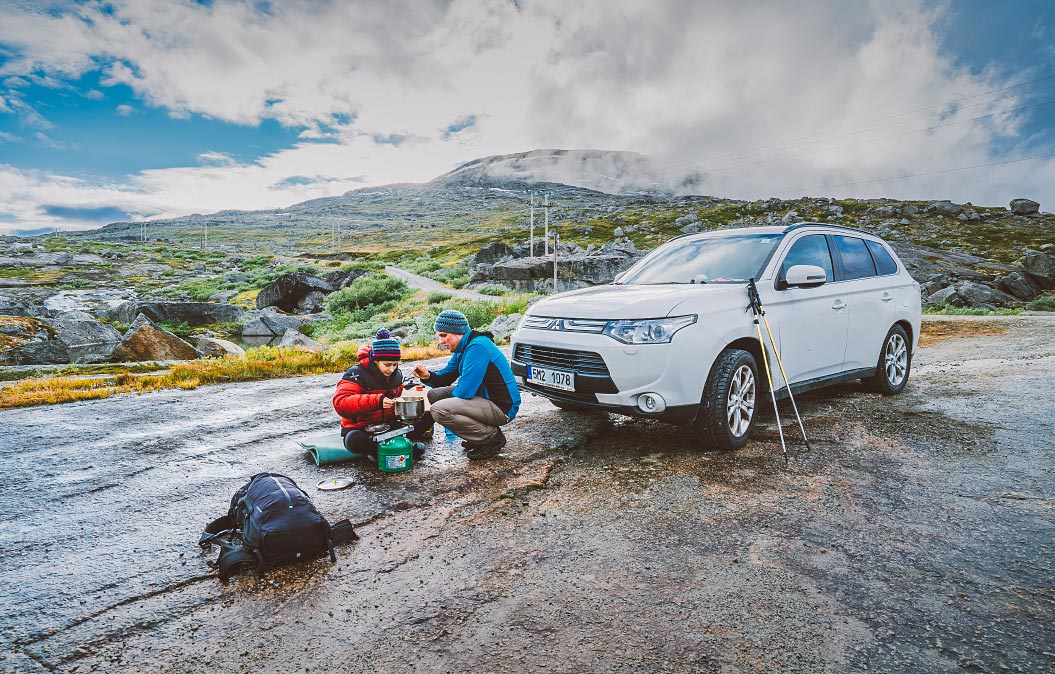 Support team Bára and Patryk cooking and waiting for Petr on strategic point during 2017 training trip.
We will try to reach new level of sharing such complex outdoor project, but at the same time, we will put huge emphasis on preserving the authentic and genuine spirit of a small and pure adventurous journey. Courageous words, we know, and maybe we fail. but life is to be lived so we at least try...
---
Partners and sponsors
We will cover big part of the expenses by ourselves and for the rest we will cooperate with our long term and also new partners, who are not in direct competition with each other. We already have the best partners imaginable, who gave us incredible material support. If you think you might also be the right partner of our project anyway, it is not late at all, so please contact us! Here is what we offer.
We offer you being part of one of the most interesting adventure projects of the year. We have never seen similarly long running/hiking project being documented like we want to do. It will also be the first really serious commitment to make this extraordinary adventure, which Norge på langs truly is, famous behind the borders of Norway!

Extreme sport aspect of this project is just one of many "layers", our aims are a lot deeper than this. In fact, we are much better filmmakers/photographers, than runners. This project might draw the attention of many different groups of people. Runners, travelers and simply many people who are interested in adventure, mountains, Norway, healthy food, cars, self development and strong stories without sure end...
Anything is possible. Feel free to suggest new ideas, we are ready!
---
What we offer
Product placement
Make your products shine in highly followed multi-thematic project. We know what we do and thanks to our huge contacts and another activities, we are able to get this project to wide spectrum of audience. How?
Social media - together we have cca 50 000 followers on Instagram and Facebook. This number is not very high, but it will go up, because, honestly, so far we have been quite slack and inactive on this field, as our work has not depended on social media at all so far!


Sport and cultural events - we are organizing one of the most popular ultra marathons in the Czech Republic called Zapomenuté hory (Forgotten mountains), here will be the first screening of the film on October 12th 2019. In 2020, we will organize really big trail-running race and festival. We will be also invited to large variety of adventure festivals etc.


New business deals and promotion in both Scandinavian and Central European markets
Similarly, big and attractive projects really help to "open the door" for negotiations with new partners. Thanks to our knowledge of the Czech and Norwegian "outdoor scenes" we might be able to connect very interesting subjects.
Top class visual brand content

Our trip will be long and the support team will have time to create. We can produce a lot of great audio visual materials with your product in the most beautiful country of Europe. With running/outdoor content, but also with almost anything else. It can be a authentic part of the project or simply artistic activity for the product itself. Only phantasy is the limit...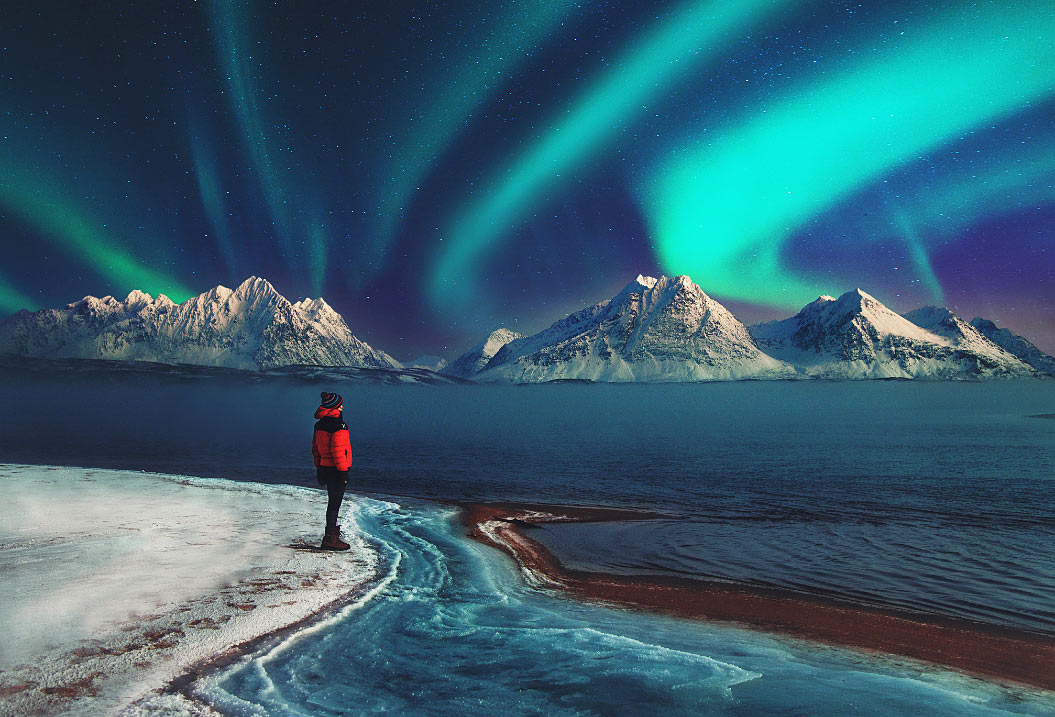 Norway has already brought us many extraordinary experiences. We feel that this summer will be a total smash
---



Why you shall trust us?
We love big challenges and we have huge experience in creating the hardest sport documentaries. We are not just an advertising company, but we are true filmmakers, who think deeply about what they are doing. This is not a job, this is lifestyle and NPL is Petr's big dream. We are very active sportsmen and we dare to say we generally know the Nature of Norway more than most Norwegians, as we have spent already several years exploring each county of this amazing country. We made mistakes in the past and we have learned from them. We have this project in our mind for several years and we are willing to give it all we have! Let's create something truly amazing together...